2019 NM Jazz Festival
14th ANNUAL NEW MEXICO JAZZ FESTIVAL
JULY 11 - 28, 2019

The New Mexico Jazz Festival is celebrating its 14th season! Featuring local and world-renowned artists and jazz masters in Santa Fe and Albuquerque. The festival is a collaborative project of The Lensic and the Outpost Performance Space.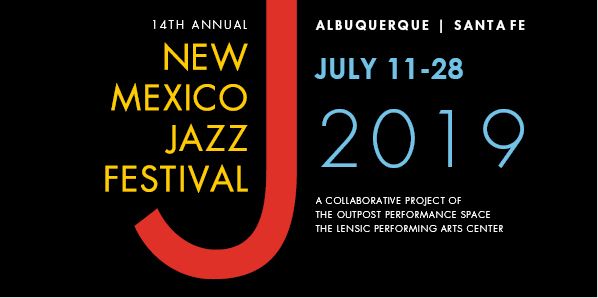 Events Up Next
7/11 Doug Lawrence New Organ Quartet (Outpost/ABQ)
7/12 New Mexico Jazz Latino Orchestra with special guest, Frankie Vasquez (ABQ Museum Amphitheater/ABQ, presented in partnership with the New Mexico Jazz Workshop)
7/13 New Mexico Jazz Festival on Civic Plaza featuring Leyla McCalla; hONEyhoUSe; Marcia Ball
7/17 Cha Wa (St John's College Music on Hill/Santa Fe)
7/18 John Lewis Project Youth Clinics (South Broadway Cultural Center/ABQ )
7/18 Cha Wa (Outpost)
7/19 John Lewis Portrait Dedication & Reception (by Invitation Only) (John Lewis Theater, South Broadway Cultural Center/ABQ )
7/19 Annual John Lewis Celebration: Aaron Diehl Quartet with Warren Wolf (John Lewis Theater, South Broadway Cultural Center/ABQ
7/20 Route 66 Summerfest—New Mexico Jazz Festival Stage: Horace Alexander Young presents Nat King [email protected] featuring Tracey Whitney; Paul Gonzales Quintet; George Schuller's Circle Wide; Albuquerque Jazz Orchestra featuring Hillary Smith (Nob Hill Shopping Center/ABQ)
7/21 Inpost Artspace Reception: Edgar Sorrels-Adewale.
7/21 Film Screening & Discussion: The Modern Jazz Quartet: From Residency to Legacy by George Schuller (Outpost/ABQ)
7/21 Edmar Castaneda (National Hispanic Cultural Crenter/ABQ (presented in partnership with NHCC Domingos en Arte)
7/23 Edmar Castaneda (Santa Fe Bandstand/Santa Fe)
7/25 Dafnis Prieto's Proverb Trio (Outpost/ABQ)
7/26 AB Spellman, Kenny Barron & Dave Holland: Meet the NEA Jazz Masters (Lensic/Santa Fe)
7/26 Kenny Barron-Dave Holland Trio w. Nasheet Waits (Lensic/Santa Fe)
7/27 Stanley Clarke Band (Lensic/Santa Fe)
7/28 Joey Alexander Trio (African American Performing Arts Center/ABQ)
PLUS MORE TBD

* ALL ACTS SUBJECT TO CHANGE
New Mexico Jazz Festival Sponsors
City of Albuquerque— Mayor Tim Keller & the Cultural Services Department; Albuquerque City Councilors Isaac Benton & Pat Davis; the Kaman Foundation; McCune Charitable Foundation; National Endowment for the Arts; La Cumbre Brewing Company; Thornburg Investment Management; and Hutton Broadcasting.